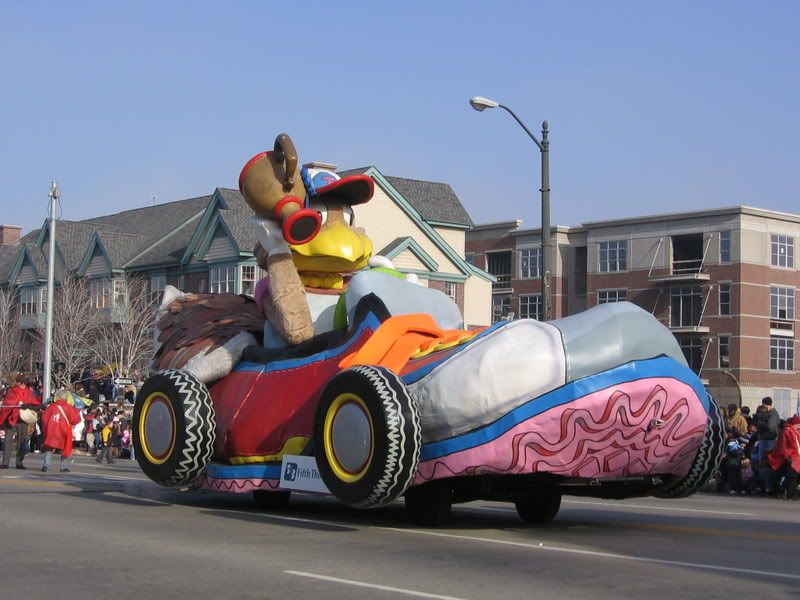 The Turkey Ran the Turkey Trot!!!
Fun Guv here. Mike's schedule is just so jammed packed this holiday weekend he hasn't had time to post about his fabulous Turkey Trot experience. Someone has to fight with the outside lights & decorations and get them up, though the big challenge this year was not highlighting the 3' tall by 15' long pile of dirt in our front yard. I'm sure he'll post about it soon, it's driving him nuts.

Anyways....the trot info. He said the route was nice, he liked it and he got a nice sweatshirt for his efforts. There were a ton of runners this year, more than I think they ever imagined would run it ~ the fact that it was a relatively balmy upper 30s lower 40s end of November morning probably had nothing to do with it. His only complaint was the end of th
e race...1. you had to walk a little ways from the finish line and go inside Cobo Hall to get your post-race water etc and 2. they didn't have enough post-race replenishments available. He was only able to get water after waiting in a line. The power ade (or whatever brand it was) was all gone by the time he got there, it probably didn't help that they weren't overly securing the line and people who were there to meet up with runners were helping themselves. Plus the umpteen trillion 5K runners got there first and pretty much wiped it out. No offense, but don't you think those who ran 10K maybe needed the replenishment a little more than the 5K runners???? But other than that small thing it was a very well organized, nice little 10K.
His stats...he's quite proud of these....
10K total time 48:36 which equals a 7:50 mile (wahooooo!)
His split was 22:18
He was number 795 out of 4,968 overall 10K runners and in his age group # 102 out of 370
He was so darn speedy all I could get was a picture of him going by in a blur! This is just past the 5 mile mark ~ almost done!
Actually I do have another picture just before the 1 mile mark (it was directly across the street from the 5 mile mark, which is where the kids & I were sitting). Since he rode down to the race with my uncle and was going to have to come find us when he was done running we decided to bring a couple of our cowbells so we could ring them and he'd know where we were (pretty smart huh?) I told him we'd be right in front of either the State Theatre, the Fox Theatre or the Hockey Town Cafe, but when we got there I saw a huge open spot right on the curb on Woodward on the I-75 overpass, how could I pass it up? We were only right across a side street from Hockey Town, it's not like I was too far off.
The cowbell did it's job, he saw us!
A couple of the other runners got a big kick out of it as well ~ notice the guy right behind him ~ Mike screaming that he needed more cowbell was also pretty amusing. Of course we got some really strange looks and questions from the people sitting all around us.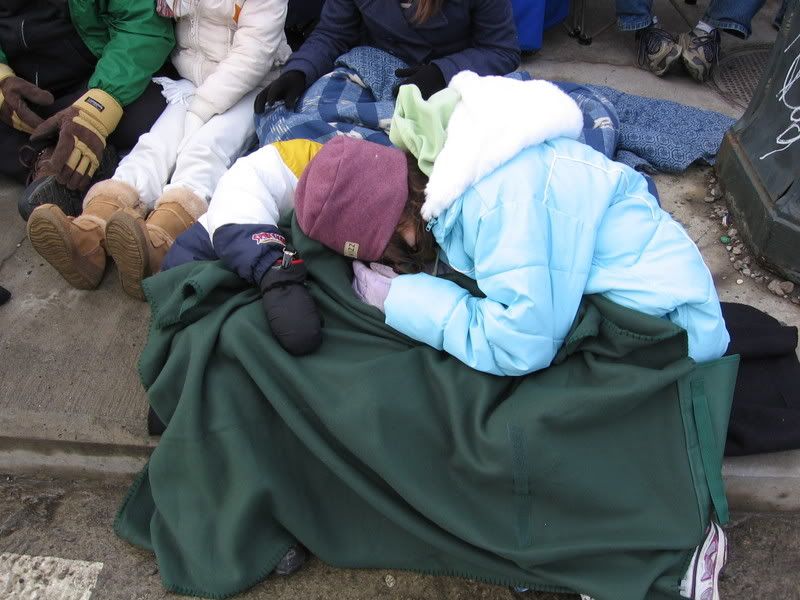 I don't think the kids will be up to getting up at the butt-crack of dawn just to watch dad run again anytime soon. I honestly can't say I'd blame them ~ they look like a couple of homeless street people. But they did enjoy the parade and for being outside in the cold so bright and early they were very good and honestly didn't complain even once. Maybe we can make this an annual tradition in our house.